A stainless steel bar is made of iron and two or more chemical elements -often known as an alloy. A high chromium content can offer exceptional resistance to rust and staining. Stainless steel manufacturers offer several proprietary alloys in addition to the 57 standard stainless steel alloys. There countless uses for stainless steel alloys: building exteriors, roofs, bulk materials handling equipment, and vehicle parts. Read More…
Stainless Steel Bar
Stainless steel bars, also referred to as rods, are solid pieces of various grade stainless steels that are rolled from billets.
Manufacturing of Stainless-Steel Bars
Stainless steel bars are made by melting Iron ore, chromium, silicon, nickel, and other raw elements together in an electric furnace. After 8 to 12 hours in intense heat, this mixture is cooled through quenching or air hardening. Depending on the amount of time spent cooling, the steel becomes either harder or softer. The stainless steel is descaled after cooling, which involves removing any accumulation using pickling or electrocleaning. Then the steel is cut using shearing, blanking, nibbling, or flame cutting to produce the final shape and size. Hot rolling, cold rolling, annealing, descaling, or other combinations of these procedures are used as further processing to provide certain finishes. Stainless steel bars are produced in grades 304 and 316.
Shapes of Steel Bars
Flat Bars
Flat stainless-steel bars are hot rolled, thick, strong, and corrosion resistant. They are often sold as 316 or 304 stainless steel round bars. 316 is an upgraded variant of 304, because the 316 has more molybdenum and nickel, making 316 useful for severe environments. Molybdenum increases the steel's resistance to acetic acid vapors, seawater, and chloride-contaminated media. The steel maintains corrosion resistance in contaminated marine environments, and freezing temperatures. If you are welding steel for corrosive environments, search for manufacturers who offer the lower carbon type 316L.
The most adaptable and popular stainless steel is 304. Its chemical makeup, mechanical characteristics, weldability, and resistance to corrosion and oxidation make it the best all-around stainless steel at a competitive price. The 304 alloy responds well to cold treatment. If intergranular corrosion in the heat-affected zone is a possibility, it's advised to use the 304L alloy.
Stainless Steel is used for a range of applications, from ornaments to dental braces.
Round Bars
Round stainless steel bars are easily cut, so they are often used to make machine parts and automotive components. It takes several steps to make round stainless steel bars. After being melted in the furnace, the steel is cast into semi-finished shapes called 'billets' or bars. The bars undergo a hot rolling process to be shaped as needed. Due to their corrosion resistance properties, stainless steel bars are fabulous for the production of automotive grills or construction fasteners.
Hexagonal Bars
Hexagonal bars are often used in construction industries as they are designed to carry weight.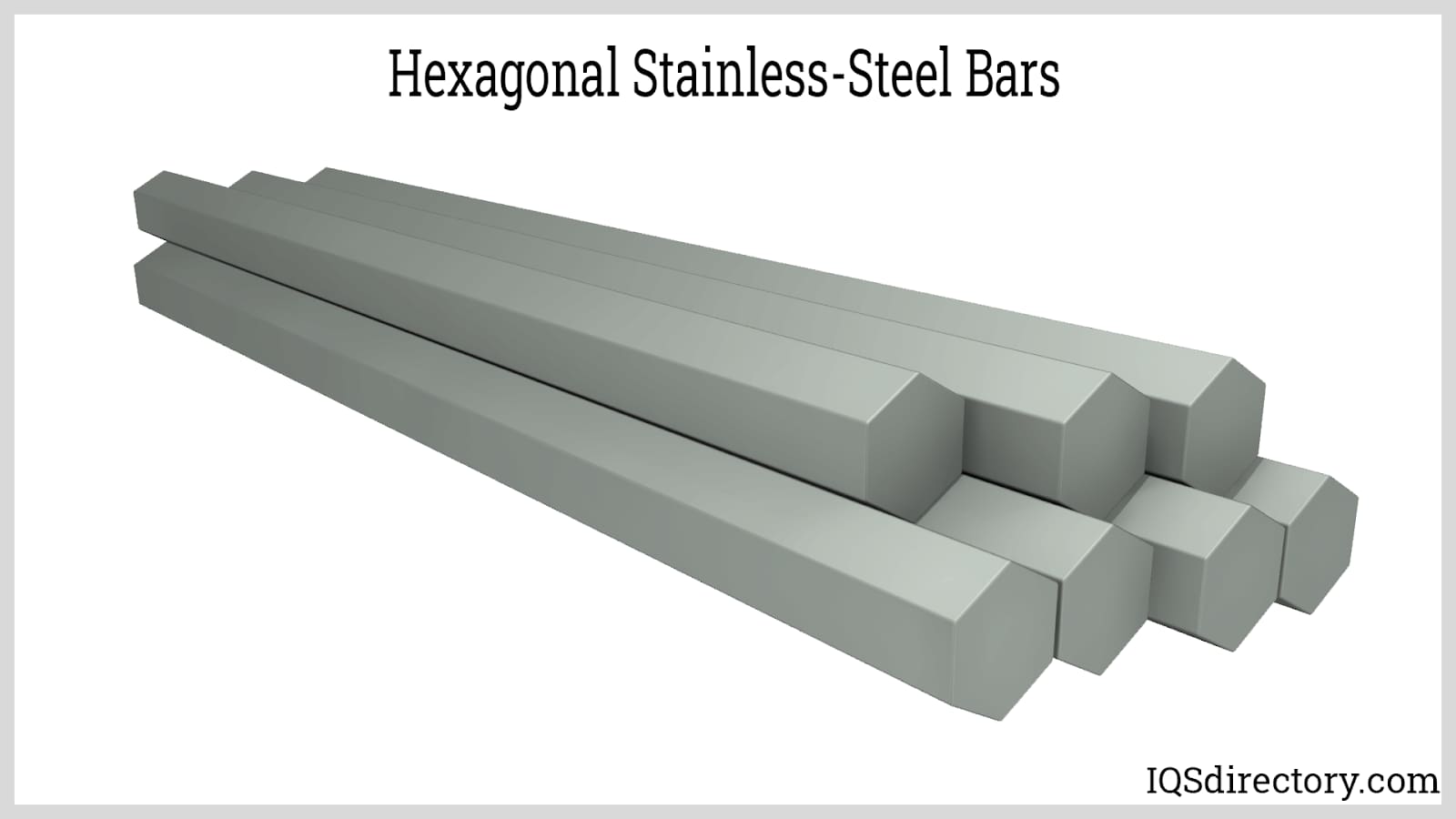 Square Bars
Square bars are well-liked for their extreme resilience and power. Square bars are used as medium or large parts for industrial machinery. This form of steel is used widely in the manufacturing sector to make machinery, fasteners, and other equipment.
Choosing the Right Stainless Steel Bar Company
To make sure you have the most productive outcome when purchasing stainless steel bars from a stainless steel bar supplier, it is important to compare at least 5 companies using our stainless steel bar directory. Each stainless steel bar supplier has a business profile page that highlights their areas of experience and capabilities and a contact form to directly communicate with the supplier for more information or request a quote. Review each stainless steel bar business website using our proprietary website previewer to get an idea of what each company specializes in, and then use our simple RFQ form to contact multiple stainless steel bar companies with the same message.
Stainless Steel Bar Informational Video